VALUE CARDS
FOR
COACHING, TRAINING & CONSULTING
Beate Mader
Communication ingenuity
online and offline
Ideas for how to use the Value Cards
I am always surprised at the different ways people use the SET OF VALUE CARDS. Here are a few examples:
Take the set home with you and let the selected Values affect you over several days and check them again and again.
Quick selection: One stack of "No," one Stack of "Next." Quickly decide between two cards. Then go through the rest of the stack again: always draw two cards and decide between them. Until there are only 5-8 cards left.
Matching Values with your partner and family.
Draw a Value that will be decisive for an upcoming conversation or project.
I am curious to find out about your ideas and experiences relating to the SET OF VALUE CARDS.

Versatile uses for Values
This SET OF VALUE CARDS with 80 Value visualisations has been available for a good two years now. In the meantime, the Set of Value Cards has been supplemented by an online application, making it possible to also work with the Value Cards during virtual sessions. Further down, you will find the Random Value Generator, A Value for Me. Here, you can draw a Value for yourself, for a situation, for the day or for a conversation.
The Value Cards can be used in many different ways. For example, if you buy at least 12 sets of cards, there is an individualised reverse side (e.g. for the coach's logo), and a Value Card Poster is available as well. Up to 12 Values (ideally 5 or 6) can be printed on a poster made of Gmund paper and given to customers as a thank you gift, for example. I, for myself, have printed my Values on seat cubes. A set of memory cards with related/similar Values is being planned.
The Value Cards are also available in German: as a set of cards, as an online application and as a random generator.
Sustainability and regionality
In accordance with my sustainable regional approach, the cards will be on GMUND PAPER and printed in a Bavarian printing shop. Each SET OF VALUE CARDS is delivered in a hand-sewn pouch. The SET OF VALUE CARDS is sent in a sustainable envelope padded with paper wool.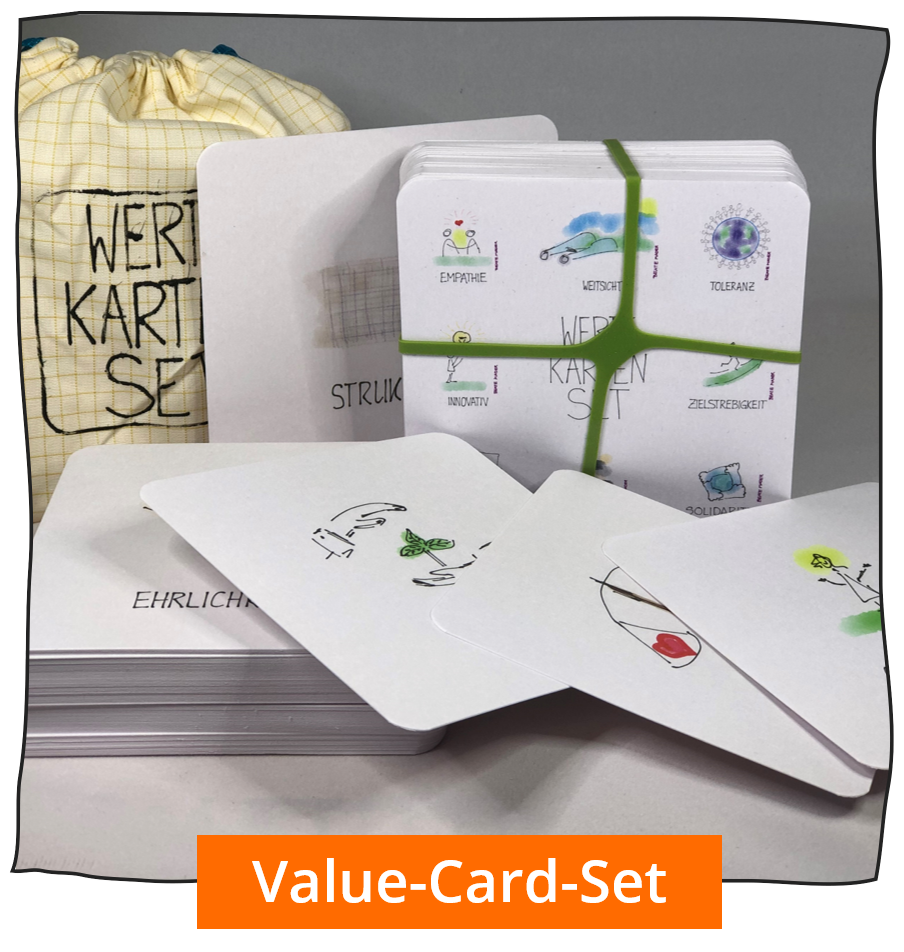 You can order your SET OF VALUE CARDS here: Order (shop (at) visionhochdrei.de: Your data will only be saved for invoicing and the ordering process!)
The SET OF VALUE CARDS will be delivered in a hand-sewn pouch.
Price for 1 SET OF VALUE CARDS: € 47 including VAT plus shipping costs (shipping costs Germany: 1 SET OF VALUE CARDS in a sustainable envelope bag sent as a letter = € 3 net).
Shipments abroad: please indicate international Taxpayer's Account Number (VAT-ID) when ordering, if available. Current shipping costs to other European countries: € 7 net. Other shipping costs on request (multiple sets, outside Europe, etc.)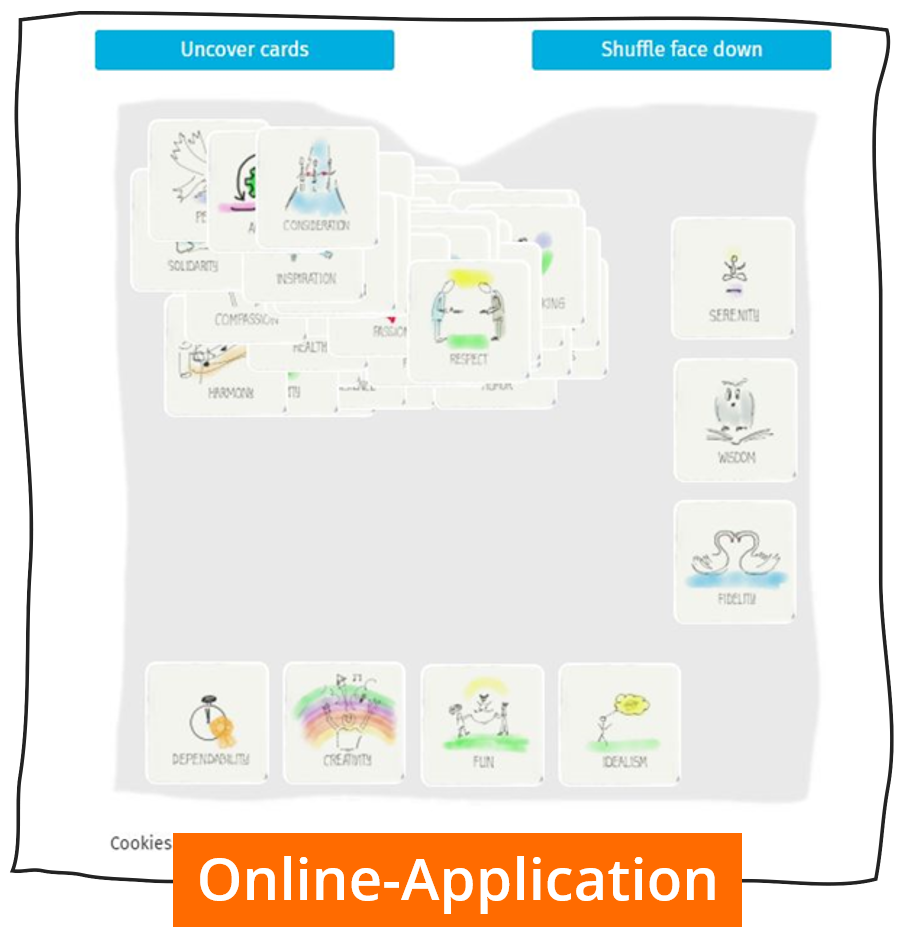 After a free 14-day test phase, you can use the Value Cards subject to a subscription model, either with a term of 6 months or 12 months. In the online application you can lay out the cards differently, shuffle them face down or face up and save a card placement and recall it at a later time. Costs Germany (plus statutory VAT) 6 months € 19.50; 12 months € 36.
Order (shop (at) visionhochdrei.de: Your data will only be saved for invoicing and the ordering process!)
Sales abroad: please indicate your international tax number (VAT-ID) when ordering, if available.
The idea behind it
I developed the SET OF VALUE CARDS in the course of my coaching and consulting activities.
I work a lot with Values, they are an essential basis for my personal and professional life. And for everything I or anyone else does.
I started out by working with a list of Values on a flipchart, but then my prototype evolved: a set of cards with all Values as terms. This was still not the optimal solution for my customers. I couldn't find any Value cards that appealed to me and met my expectations, so I visualised the Values myself.